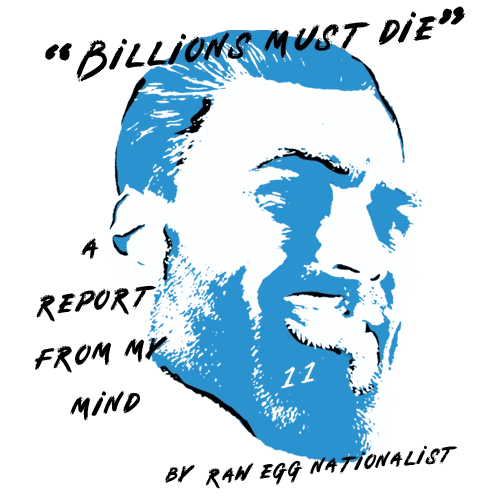 Nobody does it better!
Hello again, dear friends. Welcome to the latest issue of MAN'S WORLD. That's Issue Eleven (just count on one from ten: you can do it!). You've got quite the ride ahead of you, so make sure you're properly strapped in and let's get going.
Once more, MAN'S WORLD has delivered something truly unique. Peerless. Without compare. [He goes on, listing various synonyms.] But I really mean it. Who out there is doing anything that really measures up, in any way, to what we're doing?
Does any so-called magazine — online or in physical format, or both — educate, inform AND entertain you like MAN'S WORLD does? Only MAN'S WORLD gives you the full package. If there's something distinctive about the so-called "dissident right", something that only this motley band of thoroughly well-adjusted young men (and a few well-adjusted women) can offer the world, you'll find it here and nowhere else.
And I'm not just saying that because I'm the man behind MAN'S WORLD. The "future of dissent" is not, as some think, simply the publication of articles that contain just a pinch more spice than you'd find in a standard "conservative" offering. Nor is the "future of dissent" a series of vague nods to the value of "aesthetics" — whatever that's supposed to mean — interspersed with a few sub-vaporwave images hastily assembled in Photoshop.
No, the "future of dissent" is none of these things.
Bronze Age Pervert showed us the path, way back in 2018 (50 years ago!!) with his "exhortation" Bronze Age Mindset, but most haven't fully understood exactly what he was trying to say or, just as importantly, what he was trying to do. Vitality, humour, love of life in its every facet and manifestation — joyous affirmation: this is what we have to feed the world, and especially the young and hungry, for whom the mainstream right has nothing to offer but dull prescriptions and shopworn moralism.
Oh yes, Issue Eleven!
It's very good. Very good indeed. 350 pages of the finest essays, books reviews, interviews, advertisements (real and fake) and much more. MAN'S WORLD: Nobody does it better!